Dvořák, Antonín: Complete Symphonies Vol. 3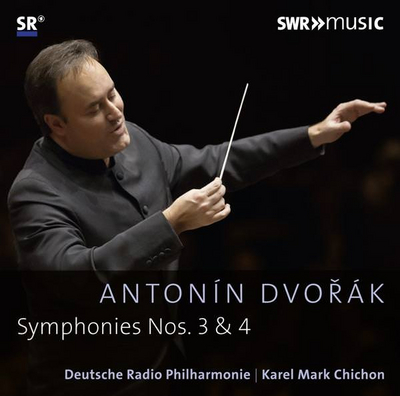 Article
Nr. SWR19009CD
1 CD
74 min
Booklet language
english
Artists
Deutsche Radio Philharmonie Saarbrücken Kaiserslautern
Karel Mark Chichon
Tracks
Tr. 1 Antonín Dvořák: Symphony No. 3 E flat major op. 10
Tr. 4 Antonín Dvořák: Symphony No. 4 d minor op. 13
This is the third instalment in our Dvořák symphony cycle. Passionate, colourful and meticulously prepared interpretations. The freshness and excitement of Dvořák's music, innovative in its time, is recreated in these performances.
Antonín Dvořák's Third Symphony (1873) raised him from obscurity of Prague's music scene. Dvořák had played viola under Bedřich Smetana and was familiar with his fame as a Czech opera composer. Now in his early thirties, it was Dvořák's turn to become a "national composer". Apart from the patriotic hymn Dědicové Bílè hory ("The Heirs of the White Mountain"), which was first performed in March 1873 by the 300-strong Hlahol Choir, it was primarily the Third Symphony, premièred a year later, which made Dvořák's name known nationally. The principal theme of the opening movement consolidated the young Dvořák's reputation as a melodically gifted composer.
The symphony was jointly published alongside Dvořák's Fourth Symphony in 1911 by Simrock (Berlin and Leipzig) following the composer's death in 1904. As was the case with his First Symphony, Dvorak's Fourth is written in a minor key; the romantic orchestration is using harp and an expanded percussion section, instead of the English horn and tuba that were used in the Third. With the Fourth, Dvořák establishes the prototype of nationalism in symphonic music, moving from its passionate opening restlessness to the vision of a glorious future for the Czech nation in the finale.
As with the previous volumes in this Dvořák symphony cycle, Karel Mark Chichon and the German Radio Philharmonic Orchestra produce performances that combine an underlying passion with detailed insights.
Audio sample