Berliner, Sasha: The Year of Wishful Thinking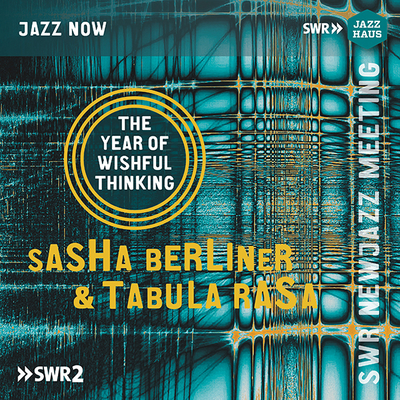 Article
Nr. JAH-484D
Streaming/Download
15:17 min
Booklet language
german
english
Year recorded
21.11.2021, Alte Feuerwache Mannheim
Artists
Sasha Berliner
Kalia Vandever
Matt Sewell
Max Gerl
Michael Shekwoaga Ode
Tracks
The Year of Wishful Thinking
Since 1966 the SWR NEWJazz Meeting, the legendary sound laboratory for improvised music brings together musicians so that they can develop their creative ideas free from the constraints of daily business. For four days, this arrangement creates a free space for experimentation, with the aim of developing a concert programme that is then presented on a tour throughout the broadcasting area.
The 2021 edition gave the then 23-year-old American vibraphonist Sasha Berliner the opportunity to put together her own dream band. Five musicians from New York and Los Angeles who had never played together in this line-up before, but had always wanted to: Kalia Vandever on trombone and electronics, Matt Sewell on guitar, Max Gerl on double bass and Michael Shekwoaga Ode on drums.
Sasha Berliner was first woman to be voted number one in the "Rising Star Vibraphone" category by the critics of the American jazz magazine Down Beat. That was in 2020. At the time, she was 21, which made her the youngest person in the history of the poll ever to attain this honor. All the pieces on the Album "Tabula Rasa", to which the present Single "The Year of Wishful Thinking" belongs, were composed by Berliner especially for and during the SWR NEWJazz Meeting 2021.
Audio sample