Beethoven, Ludwig van: Overtures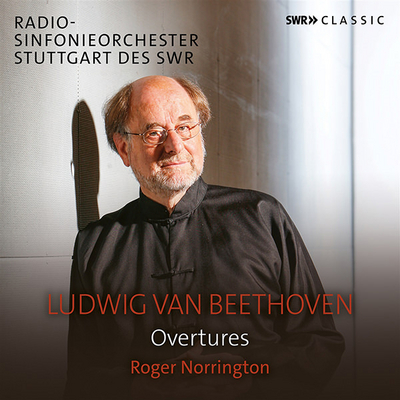 Article
Nr. SWR19121CD
1 CD
58:29 min
Booklet language
german
english
Year recorded
Track 1: 19.-21.09.2001, Stuttgart, Liederhalle (Beethovensaal),
Track 2: 19.-21.12.2001 Stuttgart, Liederhalle (Beethovensaal),
Track 3: 19.-20.03.2002, Stuttgart, Liederhalle (Beethovensaal),
Track 4: 09.11.2004 Stuttgart, Liederhalle (Beethovensaal)
Composer
Ludwig van Beethoven
Artists
Roger Norrington
Radio-Sinfonieorchester Stuttgart des SWR
Tracks
Ouvertüre zur Oper "Leonore" Nr. 1 C-Dur op. 138
Ouvertüre zur Oper "Leonore" Nr. 2 C-Dur op. 72
Ouvertüre zur Oper "Leonore" Nr. 3 C-Dur op. 72a
Ouvertüre aus der Musik zu Goethes Trauerspiel "Egmont" c-Moll op. 84
Ouvertüre zu Collins Trauerspiel "Coriolan" c-Moll op. 62
Ouvertüre zum Ballet "Die Geschöpfe des Prometheus" op. 43
This recording presents Ludwig van Beethoven's most important overtures composed for his stage works, which were few and far between yet cover a wide variety of styles: the three overtures for his only opera Leonore which was later known as Fidelio followed by the introductory music to the ballet The Creatures of Prometheus and by music for Johann Wolfgang von Goethe's play Egmont, which had previously been rather unsuccessful on stage but enjoyed greater popularity once Beethoven set it to music. The last piece is the Overture to Collin's tragedy Coriolan, written at a time when the drama was hardly performed anymore, and which therefore became a concert overture. The Stuttgart Radio Symphony Orchestra (RSO) was founded in 1945 and became one of the most important musical ambassadors of Germany until 2016 it merged with its sister from Baden-Baden/Freiburg. Worldrenowned conductors, as well as some of the world's greatest soloists, have been guests of the Stuttgart RSO, including Carlos Kleiber, Ferenc Fricsay, Karl Böhm, and Wilhelm Furtwängler as well as Maria Callas, Yehudi Menuhin, Alfred Brendel, Hélène Grimaud, Anne Sophie Mutter, Elina Garanča, Rolando Villazon, Hilary Hahn, Sol Gabetta and Lang Lang. Sir Roger Norrington was the principal conductor of the Stuttgart RSO from 1998 to 2011 and has been its Conductor Laureate since 2011. Norrington has succeeded in giving the orchestra its unmistakable image through the use of historically informed performances coupled with the implementation of the resources of a modern symphony orchestra. His work focuses on the symphonic cycles of works by Mozart, Haydn, Beethoven, Berlioz, Mendelssohn, Schumann, Brahms, Bruckner, Mahler, and Elgar. He has conducted numerous international orchestras including the Berliner Philharmoniker, the Wiener Philharmoniker, the Concertgebouw Orchester, and the Orchestre de Paris as well as many American orchestras.
Audio sample