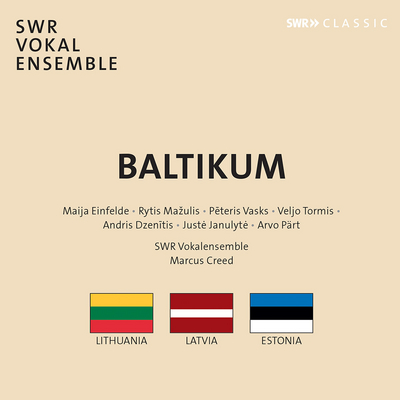 Article
Nr. SWR19087CD
1 CD
Booklet language
german
english
Composer
"Maija Einfelde
Rytis Mažulis
Pēteris Vasks
Veljo Tormis
Andris Dzenītis
Justė Janulytė
Arvo Pärt"
Artists
"Marcus Creed
SWR Vokalensemble
Dorothea Winkel"
Tracks
Drei Gedichte von Fricis Bārda
"Canon solus" für vier gleiche Stimmen
"Litene", Ballade für 12-stimmigen gemischten Chor
Kaks laulu Ernst Enno sõnadele
Zwei Lieder nach Ernst Enno für gemischten Chor a cappella
Vier Madrigale von e. e. cummings
"Plonge" für Violoncello und 12 Stimmen
"Und ich hörte eine Stimme..." für gemischten Chor
Each country of the Baltikum has its own musical founding fathers. Estonians recognise Heino Eller and the Latvians Jāzeps VĪtols as the founders of their respective national music culture; Arvo Pärt was one of Eller's students. The founding figure of Lithuanian art music and national art is Mikalojus Konstantinas Čiurlionis, whose output included fugues, sonatas, symphonic poems, music for piano and choral works. But these are not the composers presented on this album, with the exception of Arvo Pärt. Instead, the SWR Vokalensemble presents composers of the younger generation. With very different personalities, it's difficult to view their music collectively as unmistakeably Baltic: some share a certain musical solemnity; others a minimalist style; and while occasionally displaying American traits, all of it is rooted in the traditional music of the areas around the Baltic Sea.
Audio sample