Arrau, Claudio: Piano Recitals 1954 | 1960 | 1963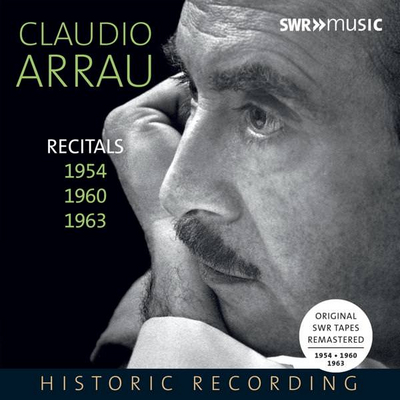 Article
Nr. SWR19054CD
5 CD
302 min
Booklet language
english
Year recorded
1954, 1960, 1963
Composer
Claude Debussy
Felix Mendelssohn Bartholdy
Franz Liszt
Frédéric Chopin
Johannes Brahms
Ludwig van Beethoven
Maurice Ravel
Robert Schumann
Wolfgang Amadeus Mozart
Tracks
CD 1 Wolfgang Amadeus Mozart: Rondo D major K 485
CD 1 Ludwig van Beethoven: Piano Sonata No. 23 f minor op. 57 (Appassionata)
CD 1 Robert Schumann: Fantasie C major op. 17
CD 2 Claude Debussy: Pour le piano L 95
CD 2 Maurice Ravel: Jeux d'eau
CD 2 Maurice Ravel: The Fool's Dawn Song (from: Miroirs) – Assez vif
CD 2 Franz Liszt: Chant polonais No. 5 (Meine Freuden)
CD 2 Frédéric Chopin: Etüde c sharp minor op. 10 No. 4 – Presto, con fuoco
CD 2 Felix Mendelssohn Bartholdy: Rondo capriccioso E major op. 14
CD 2 Frédéric Chopin: Ballade No. 3 A flat major op. 47
CD 2 Frédéric Chopin: Ballade No. 4 f minor op. 52 No. 4
CD 2 Frédéric Chopin: Scherzo No. 4 E major op. 54
CD 3 Frédéric Chopin: Piano Sonata No. 3 b minor op. 58
CD 3 Frédéric Chopin: 24 Préludes op. 28
CD 4 Ludwig van Beethoven: Rondo G major op. 51 No. 2 for Piano – Andante cantabile e grazioso
CD 4 Ludwig van Beethoven: Piano Sonata No. 28 A major op. 101
CD 5 Johannes Brahms: Variations and Fugue on a Theme by Georg Friedrich Handel B flat major op. 24
CD 5 Robert Schumann: Carnaval op. 9 (Scènes mignonnes sur quatre notes)
These recitals from 1954 and 1960 are being released for the first time. Claudio Arrau was one of the most prominent pianists of the 20th century. His career lasted for almost 80 years. Volume 1 of the complete SWR recordings of Claudio Arrau. Contains pieces that were never recorded or performed by Claudio Arrau at any other time.
Beethoven's Appassionata has very rarely been played in such a stirring, pressing and urgent way as on the evening on March 27, 1954. Arrau launches into the work with abandon; passion here means not only speed in the extreme sections prescribed by Beethoven, but also a stirring experience in which the pianist does not shy away from the risk of making his performance a spirited, subversive experience. Claudio Arrau opened the evening with Mozart's playful, buoyant Rondo in D Major (K. 485), a choice that would possibly surprise fans of Arrau's later years.
When Claudio Arrau played works by Debussy and Ravel in Ludwigsburg on March 27, 1954, it was not a popular choice for the German cultural region. French repertoire was of secondary importance to German pianists. Debussy's Pour le piano, Ravel's Jeux d'eau or his pianistically ingenious Alborada del gracioso fantasy enabled Arrau to demonstrate his admirable ability to apply a wide variety of expression, enabling historical, geographical and musical distinctiveness. The performer played three encores, including a recklessly brisk Chopin Etude and Mendelssohn's Rondo capriccioso, Op. 14, which never again turned up in his repertoire, as far as I can tell.
With his extensive Chopin program in Ludwigsburg Palace on March 12, 1960, Claudio Arrau showcased one of the composers who constituted a pillar of musical communication for his life as a pianist. Two ballades, a scherzo, the Sonata in B Minor, Op. 58, and the 24 Preludes, Op. 28, cover a wide range of Chopin's aesthetics. Arrau stretched deeper than Rubinstein into the unusual qualities of the Preludes, more apprehensive, more sorrowful in the obscure dimensions of the Ballades than Adam Harasiewicz. Much of what we hear in the musical twilight zones already hints at his Brahms recordings.
In these three concerts in Ludwigsburg and Schwetzingen, we are witness to a performer who gave concerts for around eighty years, with the exception of a brief interruption in the mid-1920s. His is a unique story of musical honesty and fortitude, which came to an end on June 9, 1991 in Mürzzuschlag, Austria – a fateful place, since Claudio Arrau was supposed to open with a concert at the Johannes Brahms Museum...
Audio sample