Annie Fischer plays Mozart and Schumann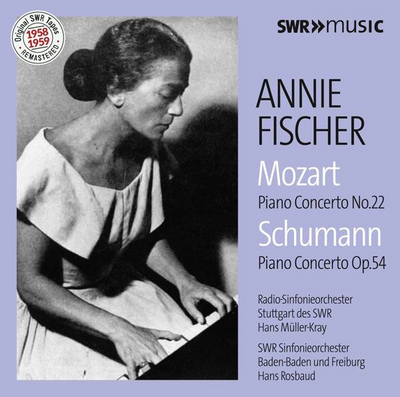 Article
Nr. SWR19025CD
1 CD
Booklet language
english
Composer
Robert Schumann
Wolfgang Amadeus Mozart
Artists
Annie Fischer
Radio-Sinfonieorchester Stuttgart des SWR
Hans Müller-Kray
SWR Sinfonieorchester Baden-Baden und Freiburg
Hans Rosbaud
Tracks
Wolfgang Amadeus Mozart: Piano Concerto No. 22 E flat major K 482
Robert Schumann: Piano Concerto a minor op. 54
Annie Fischer is considered to be one of the greatest female pianists of the 20th century. This recording contains a remarkably beautiful performance of the Schumann concerto with Hans Rosbaud conducting. These are live recordings from 1958 and 1959.
Annie Fischer enjoys a singular reputation within the great tradition of Hungarian pianists due to her deeply moving and romantically intimate performances. She became famous and admired on account of her uncompromising, spiritually absorbing interpretations. But she left behind only a few studio recordings; like many other musicians, she was critically opposed to working in the studio. Her recordings of the Mozart concertos for EMI, however, became benchmark interpretations. Most of Annie Fischer's commercial recordings appeared in the 1950s and 1960s, up until her husband's death in 1968. She retired from the podium in grief for some time afterwards.
Fortunately, some of this great artist's live recordings have been preserved. In February 1958, Annie Fischer was the guest soloist with the Stuttgart Radio Symphony Orchestra, under its long-time chief conductor Hand Müller-Kray, playing Mozart's Piano Concerto in E-flat major K482. One year later, in February 1959, she performed Schumann's Piano Concerto with the Symphony Orchestra of the Southwestern Broadcasting Corporation in Baden-Baden (Südwestfunk, SWF), conducted by the legendary Hans Rosbaud – a particularly attractive recording that demonstrates how different temperaments can come together to form a captivating overall picture.
Audio sample